Trendy headboard 2022: enhance the decor of the bedroom in the blink of an eye!
Bedroom interior design resonates in the hearts of many of us. At this time of year when we seek inspiration from the past and look with hope to the year ahead and what's new, we wonder what the year 2022 will bring us. Trends that have left strong impressions on the fashion industry and still on interior decoration are neon colors in combination with the luxury, velvety softness and rounded shapes of the 80s. and in particular the headboard will combine already popular decorative elements with new designs that you are free to interpret according to your personal style and preferences. Do not wait to discover the trendy headboard 2022 in the following lines.
Page content
Headboard trend 2022
The bedroom is a place of rest, security and mental relaxation where you can isolate yourself from the whole world in search of inner harmony. A clean and elegant design that brings pleasure is therefore an integral part of this piece. If you want the design of your intimate space to remain relevant for as long as possible, first opt ​​for neutral, classic or modern touches. Note that respect for the environment and minimalism are among the leading ideas of the decoration trend in 2022. So, it is not surprising that natural materials, living plants, stone, wood, natural light, it's all part of the bedroom in 2022. Another trend is the play of textures. Bold combinations of textiles can completely transform the look of a space.
A clean and elegant design that brings pleasure is an integral part of the bedroom
Design headboard
The most important decision in your bedroom concerns the headboard. After all, it is the focal point and can influence the mood of the room instantly. Whether you want to enhance the style of your bedroom, make it more comfortable or add color, you can do it, by changing the headboard. Dare to opt for a model that extends beyond the width of the bed to create a sufficient niche to install a bedside table. In a large bedroom, it's an understated way to increase comfort without disrupting the overall clean lines. Choose different textures and materials to add warmth and visual interest. Take into account that contrasting fabrics contribute to a stunning look. Thus, a patterned headboard with an elegant velvet border is a subtle but effective decorative detail.
Choose a headboard that extends beyond the width of the bed
---
---
Modern wooden headboard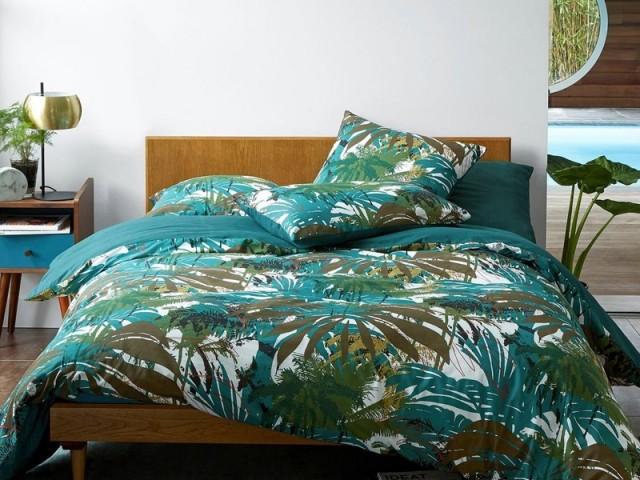 When it comes to furniture, there is nothing more reliable than a bed made of natural wood. Wood is strong, comfortable and can last for years with minimal maintenance. What is more, this material is available in a wide variety of colors and textures. Caring for the wood is easy as it only needs polishing to restore its shine and a dry cloth for cleaning. A wood headboard that brings a classic mid-century feel with wood patterns, instantly adds charm to your bedroom. If you're a fan of the rustic style, you'll love the wood panel headboard. It is up to you to choose between the color white or ebony black. Remember that whatever color you choose, this headboard will add a rustic and cozy touch to the room thanks to its unique design.
The wooden panel headboard will add a rustic touch to the bedroom
Modern rattan headboard
A fan of rattan? The rattan headboard is made for you! Feel free to create a warm, vintage vibe with a classic walnut-hued headboard crafted from delicate woven rattan. There are many rattan headboard variations you can choose from. You just have to choose the style of your room beforehand in order to create a coherent and stylish decor.
A classic walnut colored headboard made from a delicate woven rattan
Original metal headboard
If you want to add a romantic touch to your bedroom, opt for a metal headboard with geometric shapes. On the other hand, if you prefer simpler shapes and sleek designs, bet on a metal spindle headboard.
Luxury design headboard
Know that gray is the color that brings luxury to the bedroom. So, if you are looking for a luxury effect in this room, opt for gray velvet, highlighted with gold elements. Note that for a more romantic atmosphere, you can bet on powder pink which combines perfectly with gold. For a trendy decor, choose black or dark blue.
Choose gray, the color that brings luxury to the bedroom
Contemporary headboard
Soft lines and sophistication are the main elements that make an impression in a contemporary bedroom. For interior decoration, a mixture of glass, stone and wood brings comfort and a feeling of well-being and security.
Wall decoration – headboard
To emphasize the headboard, opt for a wall that will catch the eye. Consider painting the central wall in a color that will turn it into the focal point of your room. Or, you can bet on wallpaper that will highlight the headboard. Don't forget that you can hang paintings or photo frames on it. In this way, the memories of your most beautiful moments will frame the most intimate place. To add softness, you can bet on a series of padded panels.
Bet on a series of padded panels to soften the atmosphere
Bedroom interior decoration
In general, the 2022 bedroom decoration trend is linked to ergonomics and simplicity. Take into account that the cozy environment promotes relaxation and allows you to get away from the daily routine. The carrier elements of this interior decoration are in the first place the chic curtains, pleasant to the touch and decided in warm colors. It should also be noted that the monochrome range of rugs is another key element to adopt. Note that the element that makes the difference in the decoration of a cozy room is the lighting. In order to have a warm and comforting atmosphere, it is preferable to choose soft colors. Natural light is not to be neglected either. Choose light tones for the walls and ceiling to make the room more spacious and bright.
Choose light tones for the walls and ceiling to make the bedroom more spacious and bright
Trendy headboard 2022
Rustic style headboard idea
A modern bedroom with clean lines
Trendy headboard 2022 original in wood
Choose light tones to make the bedroom more spacious